BOGOTÁ, COLUMBIA
On Saturday November 17, 2018, the CEEC.CHURCH church in Columbia gathered for the establishment of a new parish in the Villa Esperanza neighborhood of Ciudad Bolívar in Bogotá. Holy Eucharist of Blessing of the Parish, led by Bishop Rosendo Usaga.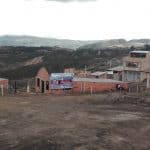 CEEC.CHURCH has a heart to reach new communities with the message of the Gospel of Jesus Christ, and endeavors to establish churches in places where they are most needed.
We thank all the people who with their help have allowed this beautiful project for the community to advance.
Inside the Church

Bishop Usaga leads the Eucharist

Blessing the Church

Jesus, The Good Shepherd Church