A report from Rev. Canon Bill Pezzutti & Rev. Deacon Rosie Pezzutti
We began this prayer mission in Malaga Spain. We were asked to be the prayer team for African Inland Mission (AIM). There were 29 staff from five countries that minister to the diaspora in Europe. We had the opportunity to pray with and minister to the entire team in the four days we spent together. Rosie and I had an opportunity to share life with the entire team.
One of their team members asked me when did we join the member care team for AIM. I told him we were not on staff with AIM but just wanted to come along side each of them to pray and care for them in our role as prayer mobilizers for GACX.
It was agreed that each of them wanted Rosie and me to pray for them individually and as a team. It was truly an anointed time in Spain. We praise God for the opportunity to be part of an incredible move of God.
Off to Frankfurt to be with Greater Europe Missionary team.  I have attached a picture of some of the AIM staff.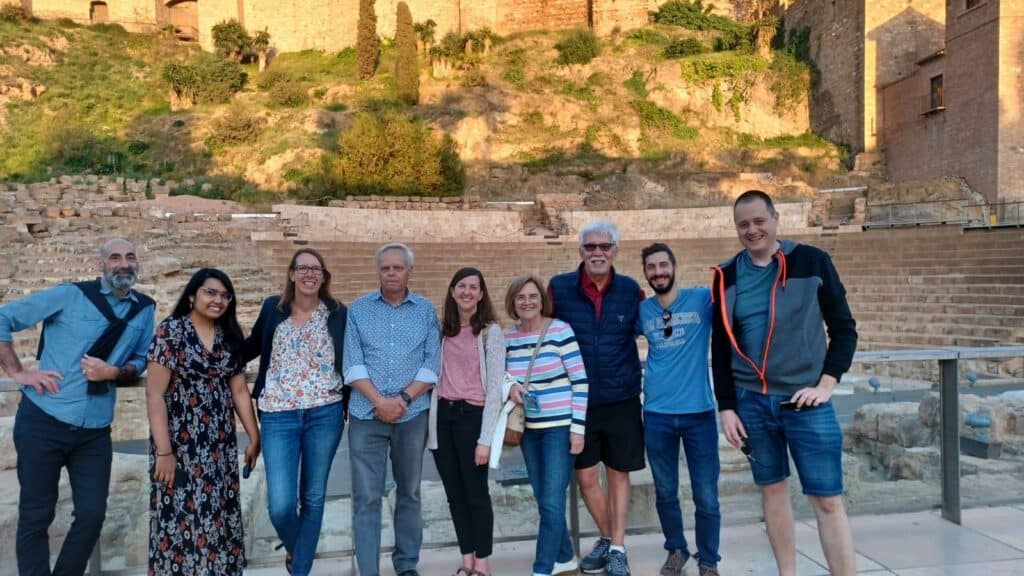 Wow, the Lord answered our prayers for the AIM staff retreat. It was a rejoicing time for all to meet one another in person or for first time, great bonding took place.
Holy Spirit did direct our prayers for all gathered. People were very real to ask for heartfelt needs for themselves, family & ministry! God blessed them all to return to their ministries & families refreshed by the Lord!
Two couples are in 2 university campuses in France with great outreach to the international students. 80% of international students return home, 20% stay. Both are needed to be evangelized & discipled to reach their countries if they go home or reach the internationals if they stay in France.
Went prayer walking on Goethe University campus in Frankfurt with about 9 students. Bill & his team had great connections with law students!
My partner & I were praying for the students as we walked around campus!
You can be a part of the Commission on World Mission, and join in prayer and ministry. Contact Bill and Rosie through the CONTACT US form on the CEEC.CHURCH website, and they will be in touch.