Sunday, March 15, 2020
Thanksgiving
Blessed is the nation whose God is the Lord
~~ Psalm 33:12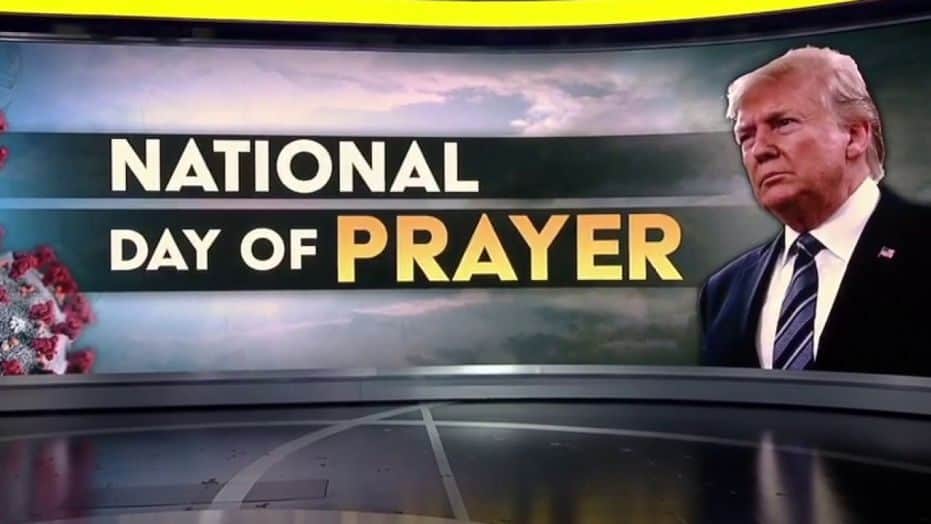 On Friday, March 13, President Trump issued a proclamation calling for a Day of National Prayer. He began by saying:
"In our times of greatest need, Americans have always turned to prayer to help guide us through trials and periods of uncertainty … in this time we must not cease asking God for added wisdom, comfort, and strength."
THANKGIVING: PROCLAMATION ON THE NATIONAL DAY OF PRAYER
PRAYER POINTS:
Lift up our hearts in thanksgiving

Come into His courts with praise

Pray that God will draw us to Himself

Thanks that the President humbled himself and called for National Day of Prayer
Repentance
If My people, who are called by My name, will humble themselves and pray and seek My face and turn from their wicked ways, then will I hear from heaven and will forgive their sin and will heal their land.
~~ 2 Chronicles 7:14
In 1863, President Lincoln proclaimed a National Day of Fasting and Prayer, and called the nation to repentance saying "We have been the recipients of the choicest bounties of Heaven. We have been preserved in peace and prosperity. We have grown in numbers, wealth and power, as no other nation has ever grown. But we have forgotten God. We have vainly imagined, in the deceitfulness of our hearts, that all these blessings were produced by some superior wisdom and virtue of our own. We have become too self-sufficient to feel the necessity of redeeming and preserving grace, too proud to pray to the God that made us! It behooves us then, to humble ourselves before the offended Power, to confess our national sins, and to pray for clemency and forgiveness.."

President Abraham Lincoln
REPENTANCE: FOR OUR PRIDE, HARDNESS OF HEART, DIVISION, WANTON SIN
Intercession
Jesus told His disciples…they should always pray & not give up.
~~ Luke 18:1
President Trump continued in his proclamations and said:
"We must especially pray for those who have suffered harm or who have lost loved ones. I ask you to join me in a day of prayer for all people who have been affected by the coronavirus pandemic and to pray for God's healing hand to be placed on the people of our Nation. As your President, I ask you to pray for the health and well-being of your fellow Americans and to remember that no problem is too big for God to handle. We should all take to heart the holy words found in 1 Peter 5:7: "Casting all your care upon him, for he careth for you." Let us pray that all those affected by the virus will feel the presence of our Lord's protection and love during this time."

INTERCESSION: FOR THOSE AFFECTED
PRAYER POINTS:
those who have been affected by the coronavirus

those who are fearful, will feel the presence of our Lord's protection and love during this time

those most vulnerable to contagion and fear from the virus
Missionary who just returned home from overseas. Was exposed to COVID-19. Now in 14 day quarantine. Several potential complications.
I urge, then, first of all, that requests, prayers, intercession and thanksgiving be made for those in authority, that we may live peaceful and quiet lives in all godliness and holiness.
~~ 1 Timothy 2:1-3
President Trump then called us to some specific areas of prayer:
"I now encourage all Americans to pray for those on the front lines of the response, especially our Nation's outstanding medical professionals and public health officials who are working tirelessly to protect all of us from the coronavirus and treat patients who are infected; all of our courageous first responders, National Guard, and dedicated individuals who are working to ensure the health and safety of our communities; and our Federal, State, and local leaders. We are confident that He will provide them with the wisdom they need to make difficult decisions and take decisive actions to protect Americans all across the country."
PRAYER POINTS:

Vice President: Mike Pence

Secretary of State: Michael R. Pompeo

Surgeon General: Vice Admiral Dr. Jerome Adams

Department of Health and Human Services (HHS) Secretary Alex Azar

CDC Director Robert Redfield, MD

CDC Principal Deputy Director Anne Schuchat, MD

National Institute of Allergy and Infectious Diseases (NIAID) Director Anthony Fauci, MD

Doctors, nurses, medical staff all over the nation
First responders
National Guard
For the Church
Trust in the Lord, and do good; dwell in the land and feed on His faithfulness. Delight yourself in the Lord, and he will give you the desires of your heart. Commit your way to the Lord; trust in him, and he will act. He will make your righteousness shine as the sun.
~~Psalm 37:3-6
Even so, let your light shine before men; that they may see your good works, and. glorify your Father who is in heaven
~~ Matt 5:15-16
PRAYER FOR THE CHURCH: TO TRUST, KNOW GOD'S HEART, LET OUR LIGHT SHINE
PRAYER POINTS:

Increase our faith ( BE the Church)

Have a heart for outreach, see the lost come to faith

God give us His desires for the people we minister to

UNITY in the Body of Christ (Make our light shine)